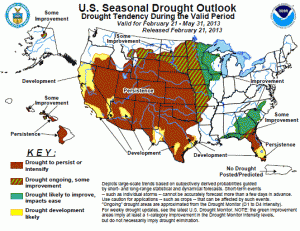 OMAHA, Neb. (AP) _ Climate experts say the drought affecting 56 percent of the country is likely to linger in Plains and Western states this spring and expand in northern California, Texas and Florida.
Experts from the National Oceanic and Atmospheric Administration's Climate Prediction Center and the National Drought Mitigation Center at the University of Nebraska-Lincoln released their latest predictions Thursday.
Currently, the section of the country affected by severe or extreme drought is slightly smaller than the 61 percent at the start of 2013.
But the February-through-May drought forecast is bad news for many farmers and ranchers who have been dealing with drought at least since last year.
NOAA climatologist Dan Collins says below-average precipitation is expected this spring in most Western states and the southeastern United States.